About Y.B.Nir Cranes Ltd.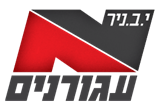 Y.B.Nir Cranes specializes in the rental, service and sales of tower cranes for the Israeli construction market and we provide turnkey solutions for projects of all scopes and sizes. Y.B.Nir Cranes is a subsidiary of Y.B.Nir Building and Investments, which was established over 30 years ago and is a leader in the civil construction field in Israel. The company was established based on our extensive knowledge and vast experience in the civil construction field and we place great importance on credibility, transparency and integrity.
Our state-of-the-art equipment enables us to provide contractors with maximum efficiency and a continuous workflow, because time is money. Y.B.Nir Cranes provides services throughout Israel and employs an experienced, professional team that includes technicians, engineers and field operators that provide excellent service around-the-clock. Our company has a storage yard and a large logistics warehouse that includes storage areas, a workshop and a vast inventory of equipment and spare parts used for the routine maintenance of the cranes.
---
Selected Projects: